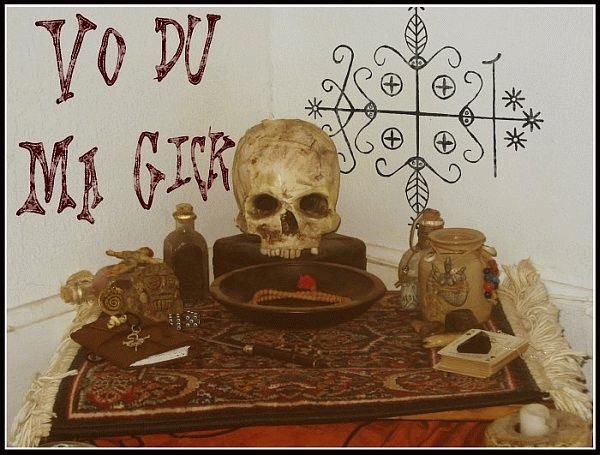 "It's obvious that I've already read Baba's book - 'cause I wrote the introduction - and it's simply excellent. I was waiting a long time for a book written by a real vodoist, like I'm waiting to see magicians from other cultures than mine. That's why I'm so pleased when a see a native american storyteller or a "Sangoma practitioner" mixing his own culture and magic."


--Christian Chelman
The Loa have been summoned, with Rum, cigars, coconut and sweets—they are well pleased. The Master Houngan Baba Gede Nibo has been commissioned by the Spirits to send a mystic scroll of Vo Du Ma Gick to the Bizarre Fraternity. And so it was done.

Come take a journey into the Chambers of Gede Nibo's Hounfour Temple. Receive initiations into the ways of Vodou Ma Gick—secrets you must swear never to reveal.

Within the Chambers you will find:

-A powerful spell is cast upon an unfortunate one—learn how to cast the spell, and cause sacrificial blood to stream from a burning candle--a sure sign the Spirits have accepted the work!

-Gede learns from his Master how to cause a simple jar of water to changes its scent- twice!

-Gede watches in secret as his Master gives a divination to a client who learns in a dramatic manner he has been cursed by the devil himself!

-An empty jar is shown to Gede as a fellow initiate weaves a tale of a dead spirit living inside. Gede listens to the spirit as it tells him where it met its demise and how it was done. The jar is uncovered and shown to have a small doll inside, with a voodoo doll pin protruding from its neck in the same spot Gede foretold!

-Gede runs into one of the most feared Vodou Bocor's ever. The Bocor takes Gede and his comrade deep into the back rooms of the ceremony and gives them a show of his resistance to the dreaded and powerful Zombie Powder!


In the Chambers you will also:
-Meet Gede Nibo's Master-Teacher, St. George, and learn how Gede came to learn the inner secrets of Vo Du Ma Gick.

-Go with Gede on his journey where he learns four ways to work a Voodoo Doll in his Magic.

-Learn Four divination techniques—two of which have hitherto never been released to the Magic community.

-Gede gives an enlightening discourse on the history, meaning, and true magic of Vodou

-Learn the names of the Loa Gods and how to use them in your work.

Over 135 pages with over 50 photos, more than 20 effects, history, ideas, enlightenment, and love for the Bizarre Craft!

INTRODUCTION BY CHRISTIAN "CURATOR" CHELMAN—AUTHOR OF CAPRICORNIAN TALES, AND THE UPCOMING BOOK HAUNTIQUES!!
Vo-Du-Magick is just $33 plus $5 shipping and handling within the US;
Overseas orders: $12 S & H.
Questions ?
email
Master Gede Nibo.
Make payments with PayPal - it's fast, free and secure!